3 vasario, 2009 – 20:53

Šiandien pagaliau Skype išleido ketvirtąją "Gold" galutinę programos versiją Microsoft Windows sistemoms. Jeigu iki šiol naudojotės trečiąja versija – pastebėsite, jog Skype 4.0 turi labai daug pasikeitimų (apie juos plačiau galite pasiskaityti žemiau esančiose nuorodose apie Beta versijas). Reikėtų pastebėti, jog Skype kūrėjai programą iš esmės perrašė nuo pamatų (pastaruosius greičiausiai paliko tokius pačius) ir vis dar yra žinoma apie keletą klaidų, todėl galima numatyti, jog artimiausiu metu sulauksime dar vieno atnaujinimo. Pirmosiose bandomosiose versijose buvo galima pastebėti viena – daug Skype 3.8 buvusių funkcijų paprasčiausiai nebėra, o pati programa įgavo visiškai naują vartotojo sąsają.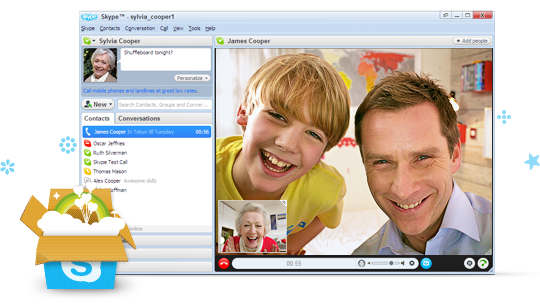 Svarbiausi pasikeitimai lyginant su Skype 3.8
Instaliacinis failas, kurį parsisiųsite iš skype.com užims tik 2,2 MB, tačiau šis instaliacinis failas neveiks be interneto, mat pačią Skype programą instaliuojant parsiųs atskirai.
Skype instaliacija be parsiuntimo iš interneto užtruko 1-2 minutes. Lyginant su Skype 3 toje pačioje sistemoje – tai neįtikėtinai mažai.
Pirmą kartą pasileidus Skype 4 pastebėsite, jog kūrėjai programą pritaikė naudojimui per visą ekraną. Tačiau tai lengvai galite pakeisti persijungdami į kompaktiškąjį režimą ("Rodyti" –> "Kompaktiškas rodymas").
Naujos išvaizdos pokalbio balsu juosta, įsiterpianti į pokalbio langą.
Žymiai geresnis darbas su vaizdo ir garso pokalbiais. Aukštesnė kokybė, mažesni reikalavimai tinklui.
Galimybė pranešti Skype administratoriams apie netinkamą Skype naudojimą ("įduoti" žmones).
Atskiras pokalbių ir istorijos sąrašas.
Keletas filmukų, kurie jus supažins su Skype 4 naujovėmis
Pakeitimų sąrašas anglų k. (nuo 4.0 Beta 3 versijos)
feature: New style when copying and pasting text in an instant message (text quoting)
feature: Video Call in separate window
improvement: Skype now creates thumbnails of display pictures
change: Get more ringtones and custom sounds link removed from options panel
change: Removed display bandwidth usage option
change: Dial pad will be opened automatically on call to landlines or mobiles
change: Increased minimum window size in compact mode
bugfix: Hot keys did not work
bugfix: Call button was sometimes greyed out after ending a call
bugfix: Registry keys under HKCU for disabling some features did not work
bugfix: Skype crashed on startup when router did not specify some details via uPnP
bugfix: Forward Error Correction did not work
bugfix: File sending was slow after changing profile picture
bugfix: When history was disabled then profile picture and mood were lost with restarting Skype
bugfix: Previously set call forwarding options were not shown after fresh installation of Skype
bugfix: Wrong error message was displayed when user tired to register a Skypename containing more than 32 characters.
bugfix: Skype did not maximize correctly when user had non-standard Windows taskbar placement
bugfix: In compact view it was not possible to start a call from main menu
bugfix: Skype did not remember chosen window size
bugfix: Skype crashed sometimes on changing between default and compact view
bugfix: It was not possible to resize Skype window if it was placed on second monitor which was on left side of main screen
bugfix: Prices in Japanese Yen on call phones tab were not displayed correctly when the price was either 0 or contained more than 1 decimal point
bugfix: Wrong call button was displayed for Outlook contacts
bugfix: It was not possible to unblock Outlook contact from SMS input field
bugfix: Executing menu items when pressing the enter key did not work
bugfix: Instant message entry box content was cleared when switching between compact and default view
bugfix: & sign was not displayed on instant message window header in compact view
bugfix: Incoming instant message notification was not cleared on full screen video call after reading the message
bugfix: In conversations list clearing quickfilter took focus from instant message input area
bugfix: It was not possible to add Outlook contacts to conversations
bugfix: SMS rate did not update when changing persons phone numbers in profile
bugfix: Remove read conversations was greyed out while on a call
bugfix: Creating new group conversation from single conversation did not take focus on participants side
bugfix: Some conversations were not marked as read after using "Mark all as read" option
bugfix: Skype crashed when opening dial pad on very small call window
bugfix: It was possible to try to open in progress file receiving
bugfix: After editing your contacts phone number type was forgotten
bugfix: Link to connect MySpace profile was missing on Personalize menu
bugfix: Changing client language did not take effect immediately
bugfix: Invite to conference context menu was available while recording voicemail
bugfix: Clear history did not work instantly
bugfix: It was not possible to remove last contact from custom category
bugfix: History showing missed calls showed also attempted calls
bugfix: Conversations were not marked as read correctly on group conversations
bugfix: Online status on focused conversation was not updated on time
bugfix: First contact in Choose contacts from was not visible by default
bugfix: Adding a call, which was on hold, to a conference did not work
bugfix: In profile contacts country was not localized
bugfix: Context menus in conference did not work correctly
bugfix: Installation failed with error 1638 in case upgrading Skype and the previous MSI packages were removed
bugfix: Login and Welcome screen in Arabic localization were misaligned
bugfix: Disabling API via registry key did not remove option to manage other programs access
All language localizations updated: Bulgarian – Nikolina Filipova & Nikolay Filipov, Czech – Petr Silon, Dutch – Kees Koenders, Estonian – Viljar Sepp & Eve Loopere, Greek – Panagiotis Sidiropoulos http://www.magenta.gr, French – Fabrice IMPERIAL & Bruno Lépaulard, German – Claudius Henrichs & Dick Schiferli, Hungarian – Mark Bender & Laszlo Koncz & Gabor Stefanik, Italian – Daniele Conte, Latvian – Intars Students, Lithuanian – Viktoras Kriukovas, Norwegian – Stig Auestad, Polish – Karol Szastok, Portuguese-Portugal – Francisco Ferreira, Romanian – Péter Henning and Mónika Iancu, Simplified Chinese – Della Wang (TOM.com), Traditional Chinese – Carlos Lee (PChome), Turkish – Ömer Emin Dede
Nuorodos
Skype 4 Beta naujoji versija Windows sistemoms
Skype atnaujinimai 4.0 Beta 1 ir 3.8 versijoms
"Skype 4 Beta 1" pataisymas
Skype 4 Beta 2 ir Skype 3 atnaujinimai
Skype 4 Beta 2 "hotfix"
Skype 4.0 Beta 3 klaidų ištaisymai